---
Ads-Messenger Sends Your 100% Guaranteed Unique Clicks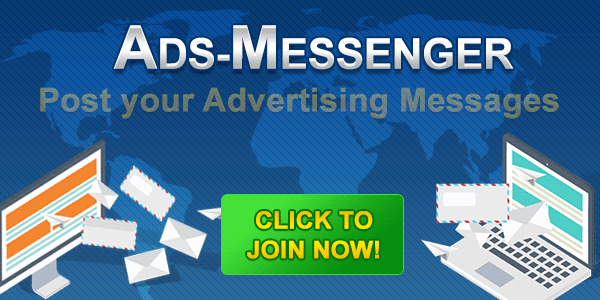 Yes it does, all you need to do is sign up, view 150 ads to get 1 message posting which in turn delivers 100 guaranteed unique clicks to your ad.
If you read my earlier post you would have noticed that we are getting sign ups from this network. If you are a member of Ads-Messenger give a shout out in the comment form below.
I like the idea behind this safelist viral mailer which doesn't require you to be clicking from inside your email client in order to visit the links for credit. Besides, your ads get a better chance of being read and your site viewed as you are required to verify you have viewed the site before you can move on to the next to complete the required opens.
What I like most is that there is not that traditional reliance on clicking for thousands of credits only to have your mail opened by a few dozen recipients. You get 100 eyeballs viewing your offer with a good chance of persons joining your list or program.
I have only tried promoting the CLICKSELLERATE Online Program so far and have had a few more subscribers today boosting my Seven day sign up total to Ten (10) from post about Three messages so far.
I recommend you join as there is nothing to lose but a few minutes of your time to open your account and start earning guaranteed visits to your offers.